The Original CINELLI Timeline
A history of the highly-respected CINELLI CINO & C. company.
Updated: 05/06/2015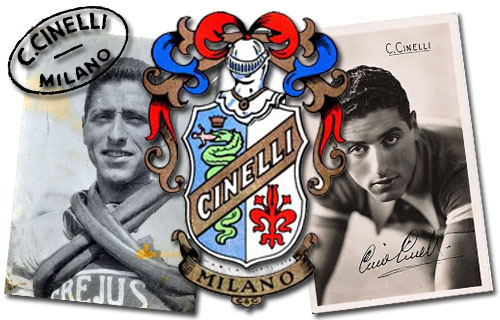 "Sport teaches, above all else, internal honesty with oneself. While racing, there is just one rule: if you promise to help a teammate, you must help him; if you promise to lead out a sprint, you must lead it out; if you promise to give a hand on a climb, you must do so. You can't be clever. Even if you find out that it's truly your day, that you don't feel the chain, that you're going like a motorcycle. Give. Give without pretending. To give is never a mistake. Give so that something or someone will give back. And if you give, you'll sleep well at night." --Cino Cinelli
Cino Cinelli
Born in Montespertoli (near Florence), Italy, 9 February 1916, died 20 April 2001 at 85 years of age.
The Cinelli family
Poor farming family from the province of Florence. 10 children total (born in less than 20 years) 7 boys and 3 girls. The second Arrigo (b. 1913), third Giotto (b. 1915) and fourth Cino (b. 1916) sons were active in cycling. Arrigo raced as an independent pro (1936-38); Giotto raced as a team pro for Maino (1936) and Bianchi (1937) and independent pro until 1940. Cino raced as independent pro (1937), and team pro for Frejus (1938-39), Bianchi (1940-43), and Benotto (1944).
1929
Cino gets his first bike at 13 years of age.
1931
Cino begins racing Junior Category at 15 years of age.
1935
Cino begins racing Senior Amateur Category at 19 years of age.
1937
Cino begins racing Independent Pro at 21 years of age.
1938
Cino begins racing Team Pro at 22 years of age.
1930s-late
Giotto Cinelli produces the first "Cinelli" stems and handlebars for himself while still racing.
1940
Giotto starts up Cicli Giotto Cinelli S.r.l. in Florence with brother Arrigo as minority partner, producing Giotto Cinelli (Florence) steel bars and stems stamped with the "CINELLI-FIRENZE" football-shaped logo which are mainly sold from their Florence location. There are also stems stamped "ARRIGO CINELLI FIRENZE - Tipo Speciale Brevettato".
1940s-early
Cino meets Hedi Matter at the Italian Sieber office where Hedi works.
1944
Cino Cinelli retires from professional racing when WWII hostilities shut down all racing in Italy and starts up Cinelli & C. S.r.l. in Forence, as strictly a marketing/sales company with no production whatsoever. He is the sales representative for Benotto bicycles in the Lombardy area, as well as Giotto Cinelli bars and stems from his brothers, and some other products.
1946
Cino, along with Fausto Coppi and Gino Bartali, founds the ACCPI (Associazione Corridori Ciclisti Professionisti Italiani or Italian Professional Cycling Association) to represent the riders interest in the Italian Bicycling Federation, as well as the Italian Sports Federation (CONI). Cino was the president of the association for 24 years and his book on training for cycling (the CONI Manual) remains a classic to this day.
1946
First mention appears in La Gazzetta della Sport magazine ad in early March 1946, of the upcoming start of production of Giotto Cinelli (Florence) bikes, which will also be sold by Cinelli & C. S.r.l. Ad mentions Cinelli Florence bicycles, bicycle accessories and Cinelli handlebars; CINELLI & C., Ufficio E Magazzeno (Office & Store) - Milano, Viale Monza, 10 - Tel. 268-678. Production of these Giotto Cinelli labeled bikes, made by a frame builder in Florence, likely lasted from late 1946 to 1948. Likely not more than 200-300 Giotto Cinelli bikes are produced in this period.
1946
Cinelli & C. S.r.l., Viale Monza 10, Milano is the first Italian firm specializing in the distribution of cycle racing accessories. This enterprise begins by serving federations and clubs, which at this time represents the entire Italian racing market.
1947
Classic Cino Cinelli shield logo appears in a La Gazzetta della Sport magazine ad in early March 1947. Ad lists Cinelli handlebars, Cinelli bicycles, Vendita (sales office): Cinelli & C., Viale Monza 10 - Tel.286-678 and Fabricazione Officine (fabrication/manufacturing facility): S. A. FACTAM, Milano - Via Eustacchi 30. Can anyone shed some light on what exactly S. A. FACTAM did?
1947
Cino lures framebuilder Luigi Valsassina from Bianchi's Reparto Corse. Valsassina was the framebuilder who had built Cino's bikes when he raced for Bianchi. Valsassina remained with Cinelli & C. S.r.l. until after the sale to Antonio Colombo of Columbus tubing. Valsassina is the sole person in charge of all framebuilding during Cino's time even though he had a number of people who worked for him and assisted him. Likely average annual production was approximately 300 frames/bikes per year.
1947
The Cino Cinelli head badge design features a knight's helmet, inspired by the one that Cino's father kept around the house. To one side is a red giglio (lily), the symbol of Cino's native Florence, and on the other is a green serpent, the symbol of his adopted Milan. First a 55mm Cinelli head badge that is cloisonne (fired colored glass) on acid-etched brass that is then silver plated, then replaced with a 56mm head badge that has the low areas filled in with enamel paint instead of fired colored glass; there is also a smaller seat tube badge (discontinued after a few years). The small stem badge is also originally cloisonne the first few years and then replaced with an enamel painted version. Note that the head badge has the words "MARCA DEPOSITATA" at the bottom and the stem badge does not.
1947
Cicli Giotto Cinelli S.r.l. is awarded a patent for handlebar stems. Towards the end of the year, Giotto and Arrigo sell their shares as well as intellectual property of Cicli Giotto Cinelli S.r.l. to Cino, with Arrigo retaining the right to service a few motorcycle customers and existing orders. These motorcycle orders and existing orders are shipped with Arrigo Cinelli Firenze markings and continue for about 5 years. Upon the sale of the shares, the production machinery is shipped from Florence to Milan and is almost immediately put into production. Giotto goes on to manage a successful injected plastic molding company, Elettroplast, that belonged to his Father-in-Law.
1947-51
The Modello S.C. Lusso (lusso = luxury) frame has a semi-sloping fork crown (not full-sloping) with or without spear point on outside of the fork leg and a Malaguti "Frejus-style" seat lug with separate seat tube collar; frame production is approximately 250-300 frames per year. The frame features chrome Malaguti "wolf's ears" head lugs, chrome fork, four chrome rings on the seat tube, lozenge-shaped "CINELLI" decal on the down tube, an open cable run beneath top tube for rear brake cable (sometimes internal rear-brake cable routing) and eyelets for fenders. Some Cinellis are made with Campagnolo Cambio Corsa drop outs and Mannesmann tubing, and later on with Simplex Tour de France, Campagnolo Paris-Roubaix, Campagnolo Gran Sport and Altenburger drop outs.
1950s
During the fifties frame production is approximately 250 frames per year.
1950s-early
Cinelli & C. S.r.l. is sole sales representative worldwide for Columbus tubing.
1950-55
Modello B with semi-sloping fork crown and internal rear-brake cable routing.
1951
Earls Court Show (London) advertisement dated November 8th lists Model S.C. Lusso (Reynolds 531), Model B. Roma, Model C. Corsa (later known as Mod. Riviera).
1951(?)
A prototype frame is made for Fausto Coppi featuring the iconic full-sloping fork crown with internal lugs and fast-back seat stay/seat post bolt system, both sand cast by Georg Fischer in Switzerland along with the bottom bracket shell; the genesis of the 1951/2 Modello S.C. "Speciale Corsa" (see notes at bottom). The full-sloping fork crown designed for smooth roads, uses shorter fork blades for a stiffer, more aerodynamic fork.
1951-52
The iconic Modello S.C. "Speciale Corsa" featuring full-sloping fork crown and fast-back seat stay / seat post bolt system starts production. Chrome Malaguti "wolf's ears" head lugs, chrome fork crown and chrome "socks" on the stays and fork legs, four chrome rings on the seat tube and lozenge-shaped "CINELLI" decal on the down tube. Georg Fischer sand-cast fork crown, seat lug and bottom bracket shell along with Reynolds 531 main tubes and Columbus fork blades and seat stays.
1952
Vecel & Co. Ltd of London ad in November 21, 1952 issue of Motor Cycle And Cycle Trader; the frame featured in the ad is a Mod. S.C. with drop-outs and braze-ons for use of the Italian Simplex "Tour de France" rear derailleur, down tube braze-on shifter and "Competition" front derailleur.
1953
Modello S.L. "Super Lusso" (lusso = luxury), a city-style bike, is introduced with 55mm cloisonne head badge, Cinelli crest decal on top of down tube, full-sloping fork crown, chrome Malaguti "wolf's ears" head lugs and "CINELLI" branded hubs, crank, fenders, chainguard, saddle, bell and stem/bar combo.
1955-59
Cinelli supplies track bikes to the Italian National Team. The bikes are stamped "UVI" in the seat cluster, have the Malaguti "wolf's ears" head lugs and sometimes a chrome fork crown but no chrome on the frame. Some have fork tangs and others do not (maybe the pursuit bikes did not have fork tangs?). Many seemed to have been finished with a dull, pastel-green enamel paint.
1957-64
Bottom bracket shell occasionally 74mm width that uses the Campagnolo or Magistroni 74mm cottered axle.
1958
Cinelli acquires Alfredo Binda toe straps.
1958
The large enamel paint-filled brass with silver-plate 56mm head badge is discontinued, replaced by a smaller enamel paint-filled brass with silver-plate 51mm head badge. There are isolated examples of the 56mm head badge being used up until 1964.
1959
Cino Cinelli is approached by Tommaso Nieddu of Turin, (founder of Vittoria derailleur company which is in a rather dire economic situation) to propose a collaboration on the production of a new plastic saddle, the Unica-Nitor. They consult with Giotto who by then has had many years of experience with the injection molding of plastics. Cino enters into partnership with Nieddu in 1962. First version has square-section steel rails and a dedicated steel seatpost later replaced with a conventional round-section steel rail version for use with conventional seat posts. The saddles were to be called "Unica" but the name was already patented so Cinelli decided on "Unicanitor", a combination of "Unica", "Ni" for the first letters of the inventor-Mario Nieddu, and "Tor" for Nieddu's factory in Torino.
1959-60
Transition years when the Malaguti "wolf's ears" head tube lugs disappear on Mod. S.C. and Mod. B. and Cinelli head tube lugs are used.
1960
Mod. S.C. referred to as "Super Corsa" in 1960 Ron Kitching catalog.
1960
1A (A = aluminum) forged aluminum alloy stem is shown at Rome Olympics; production begins three years later.
1960
The Italian Olympic Committee outfits the entire Italian track cycling team with Cinelli Pistas and tandem Pistas for the 1960 Rome Olympics.
1960
Viktor Kapitanov of the Soviet Union wins the Olympic road race at the Rome Olympics on a Cinelli Model B; afterwards Cino presents Viktor with a Mod. S.C.
1960s-early
Decals lose metallic quality silver and gold.
1961
Cinelli Monza version of Mod. S.C. (very few known to exist) with Mod. S.C. decals and "CINELLI MONZA" decals on down tube.
1962-64
Mod. B Altenburger version equipped with Altenburger dropouts, derailleurs, brakes and hubs; open rear brake cable run beneath the top tube.
1963
1A (A = aluminum) forged aluminum alloy stem and aluminum alloy bar production begins; non-anodized till 1965.
1963
Mod. Riviera offered in Ron Kitching catalog; there are both men's and lady's versions.
1963
Cinelli five-pin steel cranks (made by Magistroni); previously three-pin.
1963
Switch from Reynolds 531 main tubes with Columbus fork blades and seat stays to all Columbus SL (Strada Leggera = Road Light) tubing; Reynolds 531 main tubes still available on request. Mod. B made with Columbus main tubes and Falck fork and stays.
1963
Handlebar end caps made of soft plastic are introduced. Installed over the bar end and under the tape, they are a decorative cover for the traditional cork inserted flush in the end of the bar.
1963
Bivalent hubs (patented by Petrosemolo and Rimedio) are introduced; first version is "3-piece" style with steel barrel and alloy flanges with threaded-on steel ring with splines.
1964
The Japanese Olympic Committee outfits the entire Japanese track cycling team with Cinelli Pistas and tandem Pistas for the 1964 Tokyo Olympics.
1960s-mid
Campagnolo Sport derailleur spring anchor-hole no longer appears in rear dropout.
1960s-mid
Mod. S.C. bottom bracket shell oil port and drain hole discontinued (some S.C.s with drain hole, but without oil port).
1960s-mid
Frames are no longer supplied with chrome Cinelli "Supercorsa" headset and chrome Cinelli bottom bracket (track bike supplied with clip-style headset).
1960s-late
Campagnolo dropout loses the "boss" for the Sport derailleur spring hole.
1967-68
Bivalent hub with one-piece alloy shell (second version) with threaded-on steel cap with splines instead of threaded-on steel ring with spines is produced around 1967-68 in a limited run of one or two years. In a 1986 Cino Cinelli interview by David Herlihy, Cino states that the hubs were made for Cinelli by Campagnolo and the special splined-body freewheel by Regina and were mostly sold to Americans in the late 1960s.
1968
The Mexican Olympic Committee outfits the entire Mexican track cycling team with Cinelli Pistas and tandem Pistas for the 1968 Mexico City Olympics.
1968-69
Three holes in the tops of lugs start to appear on some frames. Brake bridge lowered to accommodate the new Campagnolo Record brakes.
1970s
Output around 600-700 frames annually.
1970
Three holes in fork tangs added.
1970
M71 clipless pedal introduced; chromed-steel pedal platform with aluminum cleat. Ultimately four generations of M71 pedals were made and the pedal was still shown in the 1983 catalog.
1970s-early
Most Mod. S.C. have fender eyelets removed from fork ends and drop outs.
1970s-early
Campagnolo bottom bracket braze-on cable guides added.
1971
2nd generation M71 clipless pedal; aluminum pedal platform and plastic cleat.
1972-76
Mod. S.C. Leggerissimo made to order for Radsport Brugelmann in Frankfurt; yellow with red head tube and seven holes (six holes arranged in circle with seventh hole in center) in bottom of BB shell.
1972
1A stem has both 12mm bar clamp nut and 7mm hex expander bolt (later changed to 6mm hex).
1972
New binder bolt (two hex bolts threaded into hex-shaped center piece).
1972
C.O.N.I. manual "CYCLING" written by Cino along with highly respected Italian coaches Rimedio and Costa. C.O.N.I. is the Comitato Olimpico Nazionale Italiano or Italian National Olympic Committee. It is published by the FIAC and the Italian Central Sports School in Rome and illustrated by Ottorino Mancioli.
1973
End of Mod. B production.
1973
1R (R = Record) forged aluminum stem with hidden handlebar binder bolt is introduced.
1973-74
Shifter braze-ons added.
1974-75
Bottle braze-ons added.
1974
Enamel paint-filled brass with silver-plate 51mm head badge replaced with anodized aluminum head badge.
1974
Aerodynamic "funny bike" for Dane Ole Ritter's Hour Record.
1977
Top tube cable braze-ons added.
1978
Antonio Colombo, having recently separated the bicycle specific tube manufacture Columbus - his brainchild - from the his family's core A.L. Colombo steel business, enters as a shareholder in the Cinelli company. He is allowed this by Cino Cinelli who has an eye towards retirement, and who as a long-time world-exclusive distributor of Columbus bicycle tubes has watched Antonio grow the business in recent years and sees that the two of them might have a vision and passion that could be compatible.
1978
Anodized aluminum head badge replaced by Cinelli crest decal. Investment cast bottom bracket shell with cast-in "Cinelli" logotype.
1979
New Flying C logotype designed by architect Italo Lupi.
1980
New frame decals designed in the Memphis Group style by architect Italo Lupi are introduced.
1980
Serial numbering system organized by 5 digits, the first two being the year and the last three being the serial number of the frame for that year.
1981
Laser aerodynamic bike introduced. Antonio Colombo - designer, Andrea Pesenti - frame builder and Paul Erzegovesi - engineer.
1982
Gianni Gabella, designer of many landmark Cinelli products of the period, designs a new set of investment cast lugs for the Supercorsa; these are a little shorter, with only two "points". These would be followed, shortly after (1983?), by another set of investment cast legs, still used today, with even shorter more rounded lug - emblematic of the modern Italian "sport" style - fork crown with Flying C logo, the seat tube lug and fastback stay with inlaid pearl logo above the bolt, as well as the Cinelli "spoiler" bottom bracket shell - the first bottom bracket shell to significantly resolve the problem of corrosion caused by water residue in the bottom bracket area of steel tubes.
1983
Antonio Colombo takes greater control of the company and becomes the majority stake holder and Cino Cinelli retires, but his son, Andrea Cinelli, stays on as President for several years, collaborating with Antonio and the designers and engineers on several nascent projects of the period.
1983
Mod. "Golden Black" (black paint, black anodized components and 18K gold plated steel parts) shown in 1983 Cinelli catalog along with Mod. SC ladies bike.
1983
"Domino" stem (polyurethane openable upper half, alloy stem) and Mod. L saddle (plastic top, forged aluminum, wishbone-shaped frame, comes with longer aluminum bolt to use with Campagnolo Nuovo Super Record single-bolt seat post). Personalized engraving available on 1R stem from Cinelli. "VIP" saddle, bar/stem and tire bag set, all covered in matching colored suede leather.
1983
Cinelli decal at bottom right side of seat tube is moved up above the chainring for more visibility.
1983
The 26.2mm sleeved seat lug is replaced with a seat lug the uses a 27.2mm seat post.
Notes
- Cinelli would paint or chrome frames anyway the customer wanted through the 1970s (matching a color swatch sent by customer if need be, substituting a decal for the headbadge, deleting decals, chrome etc.).
- Mod. S.C. track frames and Mod. B lack oiler and drain holes in bottom bracket shell.
- Cinelli branded Magistroni cranks along with Cinelli branded Universal side-pull brakes gone after the 1950s.
- Over the years Cinellis were built with various dropouts including Campagnolo Cambio Corsa and Paris-Roubaix, Simplex TdF and Altenburger among others.
- Cinelli M71 pedal still shown in 1983 catalog.
- Mod. Riviera city/sport bike was primarily built for the English and German markets by a builder from Monza, who never built under his own name, according to an interview with Andrea Cinelli. Over the years the Riviera was built by various companies, including Garlatti in Parma.
- Over the years Cinelli offered juvenile bikes, men's and women's Rivieras, along with city bikes, all made by various companies. But the Mod. S.C. and Mod. B were always made in house, never by an outside company.
- The head badge has the words "MARCA DEPOSITATA" at the bottom and the stem badge does not.
Cinelli Model Names
- S.C. is originally the abbreviation for "Speciale Corsa" and later "Super Corsa" (listed as "Super Corsa" in 1960 Ron Kitching catalog and listed as "Tipo Supercorsa" in 1963 Cinelli catalog).
- England 1951: Earls Court show November 8th pullout supplement lists Model S.C. Lusso (lusso = luxury), Model B. Roma and Model C. Corsa (Mod. Riviera).
- Modello S.L. is the abbreviation for "Super Lusso" (lusso = luxury), an early 1950s city-style bike.
- Germany 1950-early: early 50s German HORMANN catalog shows Cinelli line as: CINELLI 'A' (Riviera), CINELLI 'B' (Mod. B) and CINELLI 'C' (Mod. SC).
- England 1963: Ron Kitching catalog lists Mod. S.C., Mod. Corsa (this is the Mod. B) and Mod. Riviera.
Cinelli Framebuilders
- Luigi Valsassina - lured away from Bianchi to begin production of Cinelli frames for Cino Cinelli in 1949. Previously Valsassina built frames for Fausto Coppi when he rode for Bianchi. Valsassina retired in 1980, a few years after Cino Cinelli's departure.
- Serafino Tomi - handled prep and cleanup work on the frames from 1975-80.
- Claudio Chirico - in the early 1980's involved in an arrangement with Andrea Cinelli to produce additional frames for Cinelli, including the Equipe model, to satisfy the North American market. Chirico had studied frame building under Luigi Valsassina for 11 years.
- Andrea Pesenti - built Cinelli frames starting with Luigi Valsassina's retirement in 1980. He was the first one to TIG weld frames for Cinelli (the initial CMX bmx frames and the first mountain bikes, then every Laser). He apparently built every Laser frame (including the reissue bikes).
- Mario Camilotto - built frames from 1988-91. Previously Camilotto had worked with Sante Pogliaghi as a frame builder from 1978-83.
- Giovanni Losa - Cinelli 'house' builder from the early 1990s till 2008.
Cinelli Head Badges
1947-1953 - 55mm Cinelli crest cloisonne (fired glass) silver-plate over brass head badge
1953-1958 - 56mm Cinelli crest enamel paint-filled silver-plate over brass head badge
1958-1971 - 51mm Cinelli crest enamel paint-filled silver-plate over brass head badge
1971-1978 - Cinelli crest anodized aluminum head badge
1978-1979 - Cinelli crest decal head badge
1979-today - Flying C decal head badge
Columbus Tubing Specs from the 1963 catalog
Columbus butted frame tubes for road races:
-No. 1 - Type "SP" butted 0.7/1.0 - weight kg. 2,375 per set - Strada Pesante (Road Heavy)
-No. 2 - Type "SL" butted 0.6/0.9 - weight kg. 2,065 per set - Strada Leggera (Road Light)
Columbus frame tubes for track races:
-No. 3 - Type "PS" for Sprint and 6-days-races - weight kg. 2,435 per set - Pista Spiccato (Track Strong)
-No. 4 - Type "PL" for pursuit or record-races - weight kg. 1,830 per set - Pista Leggera (Track Light)
Cino Cinelli Palmares
Raced professionally from 1937-1944
1937 Individuale
1938-1939 Frejus
1940-1943 Bianchi
1944 Benotto
1936
- 17th Giro di Lombardia, October
1937
- 1st Giro dell'Appennino, August 29
- 1st Coppa Andrea Boero
1938
- 1st Coppa Bernocchi
- 12th Giro dei Tre Mari
- 1st Stage 7, Giro d'Italia, May 14
- 1st Stage 11, Giro d'Italia, May 19
- 1st Giro di Lombardia, October 23
- 2nd Torino - Ceriale
1939
- 1st Stage 3, Giro d'Italia, April 30
- 1st Giro della Campania, June 25
- 1st Giro della Provincia di Torino
1940
- 1st Giro del Peimonte, May 2
- 1st Tre Valli Varesine, August
1941
- 2nd Giro del Veneto, April 20
- 3rd National Road Championship, May 5
- 3rd Giro del Lazio, August
- 2nd Giro di Lombardia, October 19
1942
- 3rd Giro dell'Emlia, October
1943
- 1st Milano San Remo, March 19
Cupertino Bike Shop & Spense Wolfe
Yearly number of sales of Cinelli frames sold at Spence Wolfe's Cupertino Bike Shop in Northern California. Sales records cover the period from 1955-1977. In 1954 a complete, high-end Cinelli road bike from Cupertino Bike Shop would sell for $67.50!
Total sold at Cupertino Bike Shop from 1955-1977:
SC = 649
Mod. B = 79
Pista = 32
Strada SC by year:
1954 = 0
1955 = 1
1956 = 1
1957 = 18
1958 = 15
1959 = 29
1960 = 26
1961 = 53
1962 = 31
1963 = 15
1964 = 19
1965 = 28
1966 = 25
1967 = 25
1968 = 18
1969 = 49
1970 = 67
1971 = 60
1972 = 71
1973 = 66
1974 = 13
1975 = 13
1976 = 4
1977 = 2

Mod B by year:
1954 = 0
1955 = 4
1956 = 9
1957 = 10
1958 = 7
1959 = 15
1960 = 3
1961 = 2
1962 = 3
1963 = 7
1964 = 9
1965 = 8
1966 = 2
1967 = No sales recorded from this point
Pista by year:
1954 = 0
1955 = 0
1956 = 1
1957 = 3
1958 = 1
1959 = 4
1960 = 0
1961 = 5
1962 = 0
1963 = 1
1964 = 4
1965 = 2
1966 = 4
1967 = 1
1968 = 3
1969 = 0
1970 = 1
1971 = 0
1972 = 1
1973 = 0
1974 = 1
1975 = No sales recorded from this point
HELP!!! Can anyone establish a date on this very first Cinelli Mod. SC with sloping fork crown and fast-back seat lug reported below?
http://www.bikeraceinfo.com/oralhistory/Cinelli%20interview.html
A Visit With Cino Cinelli by David V. Herlihy
Author's note: the following sketch of Cinelli's life and contributions to cycling is based on his own account as given to me (on a visit in 1986), and supplemented by information obtained from his son, Andrea.
"The fabled frame was the result of Cino's yen for a more rigid design. To this end, he conceived sloping fork crowns and the peculiar "fast-back" seat post-bolt system. Early on, he hired a Bianchi frame maker, Luigi Valsassina, to assist in frame production. (Now 85, Valsassina left the firm a few years after Cinelli's own exit). Cino recalls how his technician initially resisted such an unorthodox design. Cino, having an order to fill for the great Fausto Coppi, instructed Valsassina to build two bikes for the champion--one a traditional configuration and the other Cino's new design. Both frame-builder and racer were duly impressed with Cino's alternative, and the Speciale Corsa was born."
http://www.cinelliregistry.org
http://italiancyclingjournal.blogspot.com/2008/09/cinelli.html
http://cinellionly.blogspot.com
CREDITS
A lot of people have generously shared their knowledge over the years, particularly Steven Maasland, John Barron, Angel Garcia and David Beck among others.
I would greatly appreciate any assistance you the reader can offer in updating this timeline as this is the only way the accuracy of this timeline can be improved. Chuck Schmidt