Vélo-Rétro Vintage-Style Musettes
Classic musettes, the road racer's "feed bag," precisely reproduced from a 1960s Italian musette in fine cotton muslin by our Los Angeles partner, to our exacting specifications.
Updated: 02/12/2014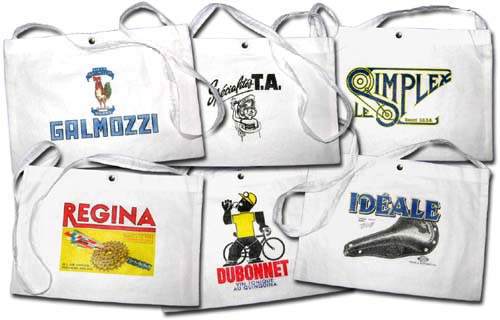 WHAT'S NEW? Let us design a custom musette for you.
These musettes are perfect for short day rides, runs to the store or post office, or any other ride where all you might need is a wallet, a windbreaker, and a place to put any goodies you might pick up! Wonderful for walking & hiking too. Watch out that your girlfriend or wife doesn't appropriate it for a casual Saturday purse! The bleached, light-weight cotton musette measures 10 x 14.5 inches, with a 40 inch-long cotton shoulder strap and a chrome button snap; all reproduced from an original 1960s Italian cycling musette and made for you when you order.
Ordering: To order, click the "Add to Cart" button and you will be taken to a Secure Site: Visa, MasterCard, Discover, American Express, and PayPal credit cards are accepted. You don't need a PayPal account to pay with a credit card through PayPal; no service fee will be charged to you, it's charged to me.
Shipping: We ship by the cheapest and most secure method and any overpayment for shipping is refunded back to you after you place your order. Musettes will be shipped in a USPS flat rate Priority envelope; $5.60 in the U.S., $20.55 to Canada and $24.75 World Wide. Up to twenty-five musettes will fit in a single flat rate Priority envelope. FOREIGN ORDERS WELCOMED!
Custom Musettes: If you have an idea, photo or drawing you'd like to put on a musette we can make your musette for the same price as our regular musettes. We'd be happy to answer any questions you have; feel free to contact us.
Click on thumbnails for a larger view.