Vélo-Rétro Custom Vintage Bicycle T-Shirts
Images from the history of cycling printed onto high-quality t-shirts.
Updated: 05/04/2013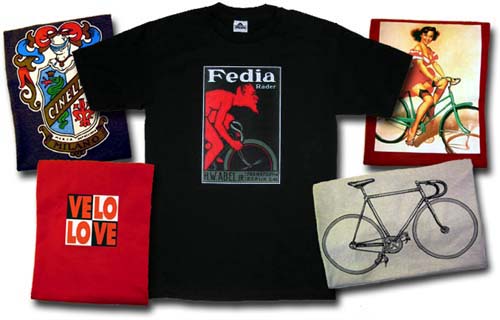 FOREIGN ORDERS! Because of the recent crazy increase in postage to foreign countries I'm offering a 10% discount on Foreign Orders (I will send your 10% refund after you place your order)!
WHAT'S NEW? The Campagnolo Blue Cardboard Thing T-Shirt. You'll find it in the "Brands" section.
CUSTOM? Dream-up your own custom T-shirt or custom musette and we will make it for you.

Pick a category from the T-shirt submenu to the left.
Please read before you order: Your Velo-Retro T-shirt is custom printed for you when you order (sorry, no returns). The high-resolution image is applied by either heat transfer or sublimation and greatly surpasses silkscreening in detail and sharpness of image. The color image, extremely fade resistant, remains vibrant for the life of the shirt and can be applied to the back of the shirt if you wish. FOREIGN ORDERS WELCOMED!
Shirt style: The shirt brand we use is Triple A (Alstyle Apparel & Activewear, the T-shirt industry standard). They are a high quality, heavyweight, pre-shrunk, soft 100% USA cotton T-shirt with double-needle bottom hem and sleeves and shoulder-to-shoulder reinforcing tape. They are available in seventeen colors (all the colors are beautiful, by the way).
Incidentally, please feel free to send any shirt you'd like and we'll apply the graphic and refund the cost of the shirt that we use.
Shirt Size Comparison Chart: IMPORTANT! Measure one of your own T-shirts and compare it to the measurements in the chart! Shirt width is measured across the chest below the arms and length is measured from the front neck top to the hem bottom. All chart measurements are in inches.
| | | | | | | |
| --- | --- | --- | --- | --- | --- | --- |
| SIZE | S | M | L | XL | 2XL | 3XL |
| WIDTH | 18 | 20 | 22 | 24 | 26 | 28 |
| LENGTH | 24.5 | 26.5 | 28 | 29 | 30 | 31 |
Colors: Please be aware that the color swatches are only approximate and also take note that computer monitors rarely reproduce colors accurately.

Custom T-shirts: If you have an idea, photo or drawing you'd like to put on a shirt we can make your shirt for the same or a slightly higher price than our regular shirts. We'd be happy to answer any questions you have; feel free to contact us.
Ordering & Shipping: To order, click the "Add to Cart" button and you will be taken to a Secure Site: Visa, MasterCard, Discover, American Express, and PayPal credit cards are accepted. You don't need a PayPal account to pay with a credit card through PayPal; no service fee will be charged to you, it's charged to me. I ship by the cheapest and most secure method and any overpayment for shipping is refunded back to you. All orders are shipped by USPS flat rate Priority envelope or USPS fixed rate Priority medium-size box. The Priority envelope is $5.95 in the U.S., $19.95 to Canada and $23.95 World Wide. The Priority medium-size box is $12.35 in the U.S., $40.95 to Canada and $59.95 World Wide.
One to four T-shirts (depending on size ordered) fit in the USPS flat rate Priority envelope; if the shirts are size 2XL only two shirts will fit, if size 3XL only one shirt will fit. Ten size L shirts or eight size XL shirts will fit in the fixed rate Priority medium-size box. In some instances it is possible to send your order in two separate envelopes instead of the box and save some money on World Wide shipping. I always refund any excess shipping payment. FOREIGN ORDERS WELCOMED!

Pick a category from the T-shirt submenu to the left.